Albuquerque Convention & Visitors Bureau

Interactive & Design Manager
Designing, developing and project managing marketing initiatives and rich storytelling across all platforms.

As the Interactive & Design Manager I worked with an internal Marketing Department and a local Branding Agency to create marketing materials in both print and web that effectively promoted our brand. I monitored and improved campaigns and SEO through monthly meetings with a Web Analytics Consulting Agency. I built and maintained websites, created new video assets, managed the implementation of a new CMS and the design and development of mobile experiences with outside vendors. In addition to the large vendors that made up the Mobile Development Agency and the Video Production Studio, I was also required to source video and photo assets with local and national freelancers.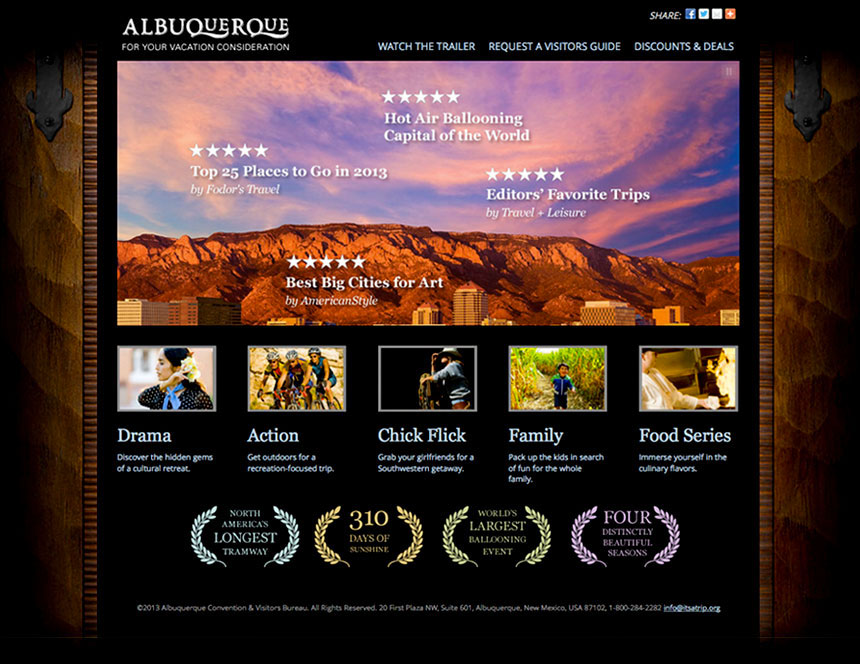 All websites were standards based and responsive providing accessibility across all platforms and devices.




I helped in the direction and managed the creation of this promotional video supporting the value of travel and tourism in Albuquerque. The video graphics were created to coordinate with the accompanying website that I also designed and built.




︎︎︎︎

Leading the design and implementation of a mobile and tablet optimized website.

Challenge
One of my first tasks as the Interactive & Design Manager at Albuquerque Convention & Visitors Bureau was to launch the newest version of our website. Unfortunately this new version was not responsive and we no longer served content appropriately to mobile and tablet users.

Research
I extensively researched all existing mobile app, responsive site and mobile website experiences looking to the travel industry and beyond to best practices and successes in all fields.

Request For Proposals
Based on my research we were able to write an effective RFP that in turn allowed us to attract appropriate talent.

Solution
After a thorough review and discussion with vendors we chose to create separate optimized mobile and tablet experiences with MobiManage.

Process
Using our Analytics we determined the best performing sections of our website to create the hierarchy of the navigation.



Testing
We further refined the navigation and functionality by testing the site with a select group of users both in and out of market.



Results
The website was an award winning success that engaged mobile and tablet users and provided helpful tools for in market visitors as well as locals.