Visual Identity: Entrepreunerial Efforts

Try, Try, Try Again. I have relied on this mantra for my work in community building and education

The First Pitch
Building on my education experience I successfully pitched TeamWork, a business idea combining apprenticeship with a professional design studio. I was provided with professional mentorship that led to an opportunity to run the program out of the South Valley Economic Development Center.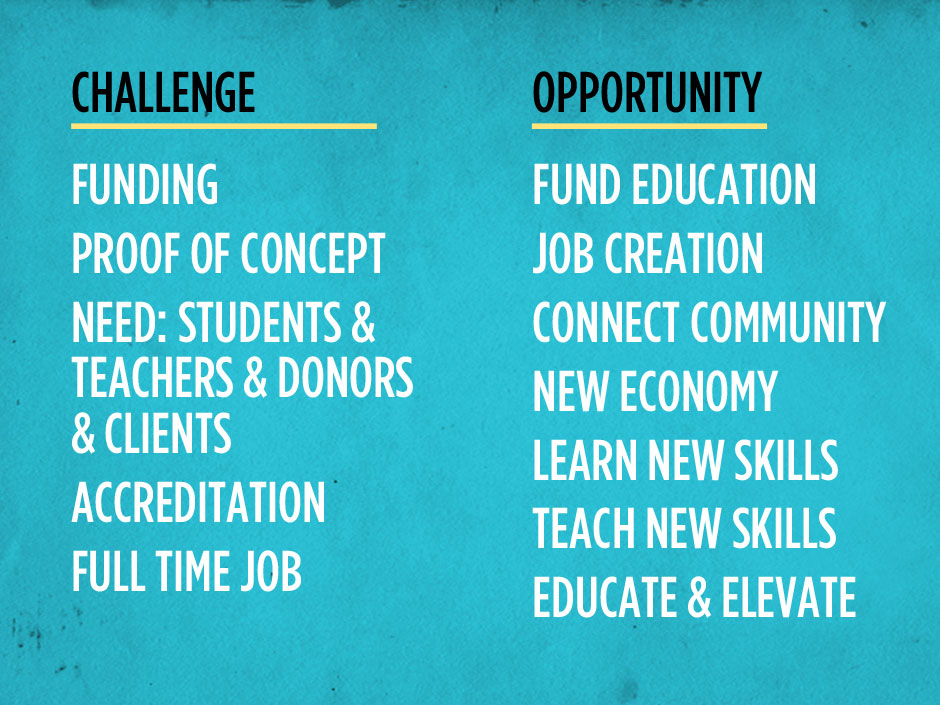 TeamWork was a learn to earn idea that attempted to offer instruction and apprenticeship subsidized by building websites. This idea built on my teaching practice that advocated students to build websites for real world clients.

The Second Pitch


Expanding on the initial pitch and lessons learned in the first month of the program I wrote a grant and was awarded funding from the McCune Foundation.

The Pivot and Third Pitch
Three months into the project we were struggling to attract clients and participants to the program. By working with the counsel of local entrepreneurs we quickly adjusted the model to attract the coworking community. This allowed us to subsidize the rent while continuing to offer educational opportunities. It also expanded our instructional capacity by allowing members to teach.



We provided workshops in design, writing and marketing. Most importantly we had begun activating local non-profits and entrepreneurs in a underutilized community of Albuquerque.



The project was so successive it was expanded beyond our one room coworking space to become a building wide initiative called SINC.

SINC is an Albuquerque-based nonprofit startup incubator that supports social entrepreneurs launching socially minded ventures, helping disruptive and needed social impact ideas scale to address some of NM's most pressing needs.